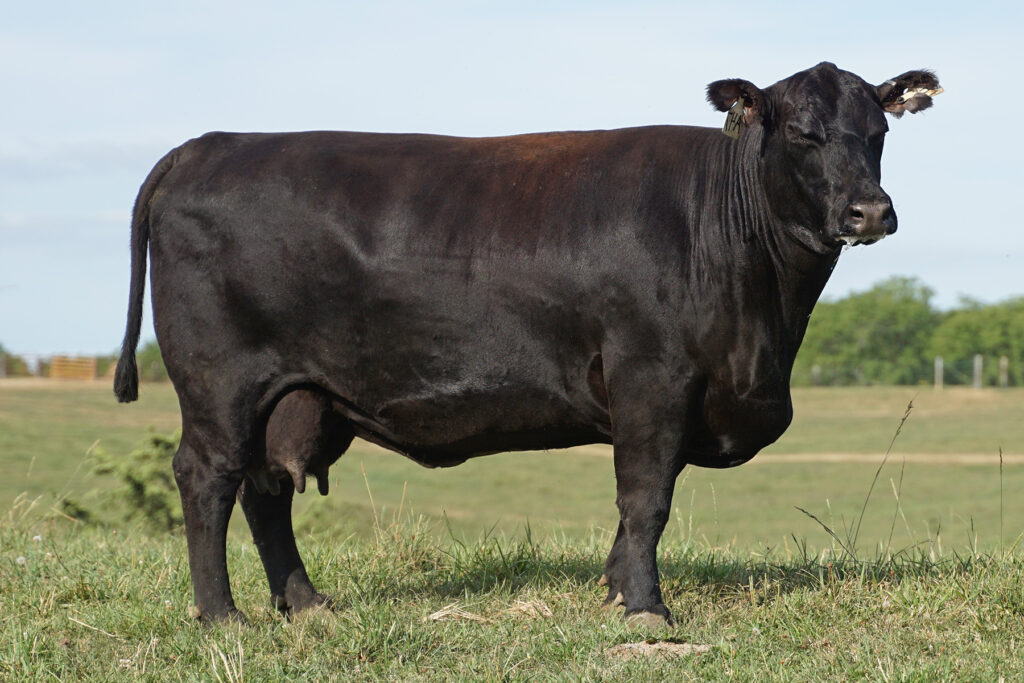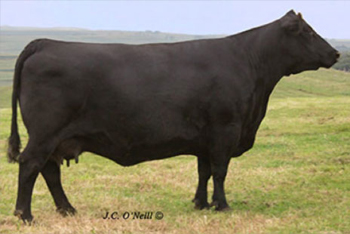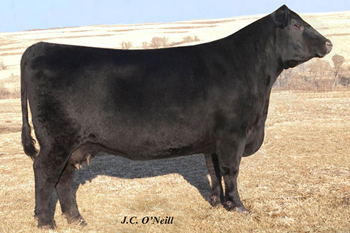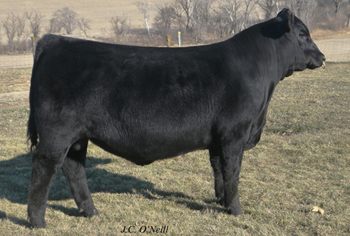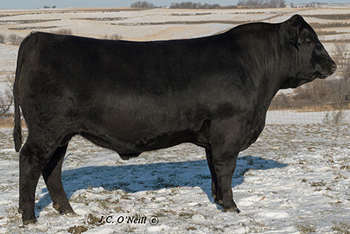 Delia Scheckel A47
Birth date: 05/01/2013
Tattoo: A47
Sire ONeills OMAI King
Dam ONeills Delia 730

Delia Scheckel A47, is a full sister to 3 breed-leading power bulls bred by Jim ONeill. ONeills Astound, ONeills OMIA King 1083, and ONeills Dominant.
Delia Scheckel A47 comes from one of the greatest Angus herds in the country, Oneill Angus Farm, whose genetics are intentionally kept out of the main stream, never following fads, producing Angus cattle that have walked the walk and proven themselves at bull tests, steer futurities, in the show ring, and on the grid.
Full brother, ONeills Astound, was Reserve Grand Champion and second high selling bull at the 2012 Black Hills Stock Show at Rapid City, SD. Selling for $15,000 to Ballou Angus Ranch in Wyoming.
Another full brother, ONeills Dominant, sold for a $36,000 valuation also to Ballou Angus in Wyoming.
Her dam, ONeills Delia 730, is one of the most popular and powerful donors in the Oneill Angus herd.
Her maternal grand dam, ONeills Delia 715, is an Angus legend and arguably one of the most powerful cows in the breed, producing major herd sires ONeills Expedition, ONeills Lucky Boy, and ONeills Power Force, whom all went on to sire many bull test winners throughout the country. Delia 715 has also produced over 6 donor cows retained by ONeill Angus in Iowa.
A47's sire, ONeills OMAI King, has been a wonderful, proven calving-ease sire, siring extra muscle and excellent carcass value. ONeills OMAI King is also maternal brother to ONeills Renovation.
| | | | | | |
| --- | --- | --- | --- | --- | --- |
| BW | WW | YW | Milk | $W | $B |
| 3.2 | 38 | 73 | 20 | 18.83 | 112.78 |