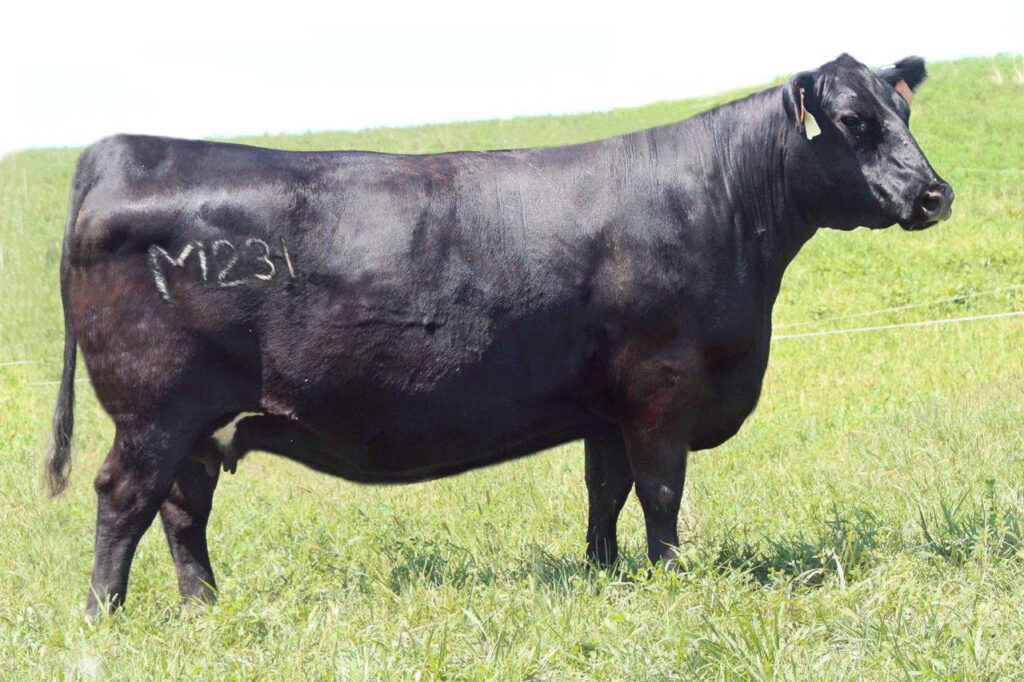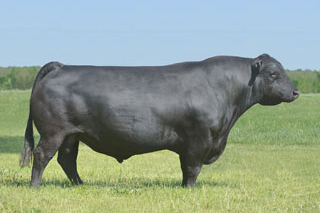 Erica of Ellston M231
Birth date: 02/28/2013
Tattoo: M231
Sire Basin Excitement
Dam Erica of Ellston K288

The dam of the former #1 Yearling Weight Bull in the Angus Breed.
The dam of sons that were included in the "World Champion pen of 3" at Midland Bull Test.
This daughter of the now-deceased Basin Excitement was the 2014 open heifer selection from the Hoover Angus herd, by the 2XL Cattle Company. She stems from the famed Erica of Ellston R155 cow that produced NR 12 @112 with a 363 day calving interval.
M231 was acquired as the pick of the herd by J.J. Scheckel, from the 2XL cattle dispersion in 2018.
M231 has produced some of the top calves while in the 2XL program every year including: 2XL Exploration 5230, the former #1 YW EPD sire in the breed (Exploration remains #4 in the breed), 2XL Ragnar 5908, the #17 $W sire in the breed, and 2XL TenX 5208, member of the "World Champion Pen of Three Bulls" for ADG at the 2016 Midland Bull Test selected by Diamond Peak Cattle Co., Craig, CO.
Her son, "Exploration" posted an adjusted 205-day wt of 797 lbs without creep feed. That was 130 lbs greater than the average of the next three contemporaries that went on to win the Midland Bull Test "World Champion Pen of Three Bulls". Exploration is a genomic standout as well as an EPD outlier. His 50K ranked him in the top 1% for WW, YW, and CW, top 2% for CEM, RE, and Fat, top 10% for SC and Doc. Unfortunately, Exploration was lost to an injury while on test and only a very limited semen inventory remains.
Additional sons have been the herd sire selections of Sandman Cattle Co., Dekalb, IL at $4250, Roy Reno, Humeston IA at $6500 and Raftopoulous Ranches, Craig Co. at $4750.
Her sire, Basin Excitement, is featured at Genex and in the Hoover Angus bull battery. He posts an incredible BW to YW EPD spread of +0 to +121. Excitement sired the $25,000 Hoover Elation M123 featured in the 2014 Hoover Sale now a headliner at Select Sires.
An Excitement daughter is currently the #1 indexing cow in the entire Hoover Angus herd. Excitement earned Pathfinder® status again this year with 17% of his eligible daughters achieving Pathfinder® recognition.
The Erica cow family is in the forefront of Angus innovation and will continue to deliver unparalleled growth rate and accompanying EPD values. Erica M231 is an extremely deep bodied donor with an ideal udder and exceptional docility.
| | | | | | |
| --- | --- | --- | --- | --- | --- |
| BW | WW | YW | Milk | $W | $B |
| 2.3 | 71 | 123 | 28 | 78 | 114 |