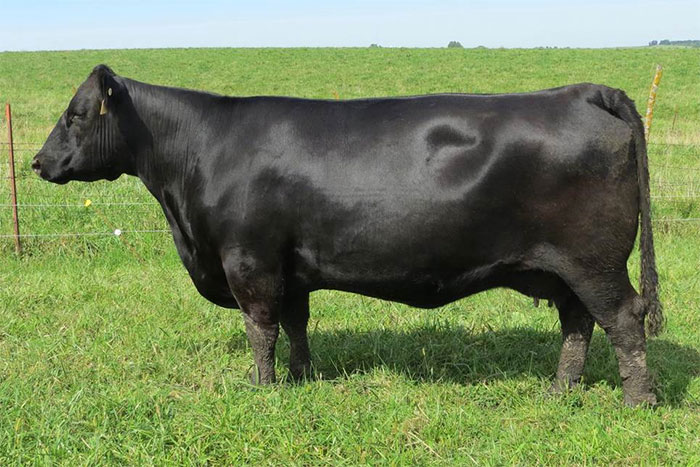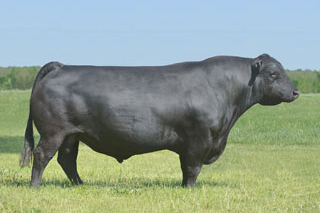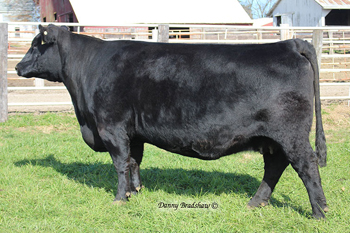 Ellston Scheckel B97
Birth date: 04/26/2014
Tattoo: B97
Sire Basin Excitement
Dam Erica of Ellston G366

Ellston Scheckel B97 is a direct daughter of Erica of Ellston G366, who is one of the most incredible females ever bred in the 90 year history of Hoover Angus. Ten of her sons have been sale features at Hoover Angus. G366 produced the lot #1 and #2 bulls in the 2017 Production Sale, selling for $14,500 and $9,500. G366 scanned a 131 IMF ratio, and a 115 Ribeye ratio individually.
Ellston Scheckel B97 is also a full sister to Erica of Ellston M38, who was Hoover Angus's #1 weaning weight heifer of her calf crop. M38's first son was the lot #1 bull in the 2016 Hoover auction, selling for $14,500. M38's heifer calf easily took #1 weaning weight calf of the 2017 crop, at 872 pounds. She was actually the heaviest weaning-weight heifer ever in the 90-year history of Hoover Angus. M38 is also the #1 indexing cow in the entire Hoover herd.
Ellston Scheckel B97's sire is the famous Basin Excitement, who is a big time spread bull, from birth weight to weaning weight. His progeny have shined in all herds he was used. He is a true calving ease bull, who transmits growth and performance second to none.
We purchased B97 as an embryo at the National Wester Foundation Female sale in Denver, Colorado.
Ellston Scheckel B97 ranks herself, in the top 3% for weaning and yearling weight EPD's, top 10% dollar beef, and top 1% dollar weaning and feedlot value. Her 2 natural progeny have averaged a weaning ratio of 107 in the J.J. Scheckel herd. Her 2017 natural calf ranked #3 for weaning weight ratio.
B97's Two natural daughters, Ellston Scheckel D128, and Ellston Scheckel E229, both continue to serve in the Scheckel herd.
Hoover Angus talks a lot about docility traits, and without question, you can absolutely see this first hand, as B97 was always the first calf to come up to you in a pen of 100. It was unreal how docile she was, compared to her herd mates.
Ellston Scheckel B97's natural 2019 bull calf, G650, claimed the #2 Weaning Weight day average calf from our 2019 natural calf crop, at 3.80 pounds per day, to ratio 111.
| | | | | | |
| --- | --- | --- | --- | --- | --- |
| BW | WW | YW | Milk | $W | $B |
| 1.6 | 65 | 115 | 33 | 74.12 | 141.25 |