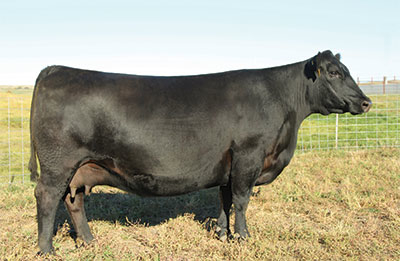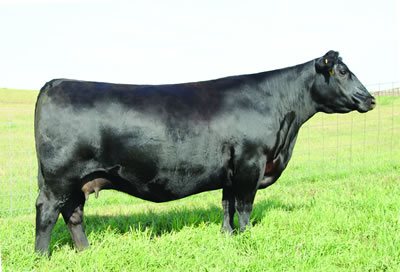 SAV Blackcap May 2635
Birth date: 01/03/2012
Tattoo: 2635
Sire SAV 707 Rito 9969
Dam SAV Blackcap May 8056

Full sister to Genex AI bull, SAV Powerhouse 2447
Her dam, SAV Blackcap May 8056, is a cornerstone 3rd generation donor at SAV. She has produced many headliners at past sales. 8056 records of Birth weight ratios 4 @ 95, Weaning ratio 4 @102, Yearling ratio 2 @ 104, with 8 daughters retained in the SAV herd and in production
Her sire, the $147,000 SAV 707 Rito 9969, was one of the high-selling bulls at the 2010 SAV production sale; he is a son of the dominating powerhouse of real world performance bull, RITO 707 of Ideal 3407 7075. He is known as the Muscle Bull, he is moderate in frame, and adds muscle
Two of her full brothers, SAV 9969 Rito 2447, and 2448, both record EPDs for weaning and yearling weights, in the breeds top 1%. They both weaned off at 1,000 pounds real weight
Another full brother, SAV Powerhouse 2447, is currently a Genex AI bull, he is described as a powerhouse and catches the eye of everyone that sees him
This cow has been a powerful donor, graced with muscle, milk, and length. She has her own daughters retained and in production in the SAV herd
This cow's sons have averaged $8,750 each, in the famous SAV Production Sales.
She had an Individual IMF ratio of 114, Ribeye of 100, against some of the stiffest competition of contemporaries in the business
She currently has a production record of Weaning ratio 4 @103, and many other ratios above 100
This special cow, SAV Blackcap May 2635, is a featured cow, and currently pictured as a donor on the Schaff Angus Valley Website.
| | | | | | |
| --- | --- | --- | --- | --- | --- |
| BW | WW | YW | Milk | $W | $B |
| 3.1 | 56 | 102 | 24 | 43.77 | 147.56 |